I started my music carrier playing with various Rock, Fusion, Pop bands. I have had plenty experience in various fields of music; from a session musician to FOH engineer with famous Italian artists such as: New Trolls, Donatella Rettore, Scialpi, Dik Dik, Marisa Sacchetto; DJ song writer, arranger and player too.
I also collaborated with: Pooh, Gianni Morandi, Rita Forte, Martufello, Giorgio Faletti, Raoul Cremona, Pamela Prati.
My television experiences include:
RAI UNO "A voice for Europe" a singers competition in which, with my 4 musicians band we reached the final (1989);
In an ENDEMOL TV production which was broadcast on SKY I was featured as a pianist playing in the TV show "I CHOOSE YOU" (2008)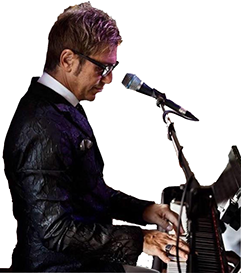 My services may suite variety of gatherings in: Hotels, Golf Clubs, Piano bar, early-evening in Discotheque, Live Music Bar, Casinò, Private Parties and Restaurants.
My performance is always different and exciting. I choose songs to play depending on the ambience and the audience. Sometimes just acoustic piano, can work as a background music.
All these unforgettable melodies will entertain guests during a dinner. In other case there could be dynamic and entertaining music, which I always play and sing live on the stage.
My musical performance genres are: Hit, Pop, Teckno, Disco, Dance, Funky, Fusion, Rock, Blues, Swing, Bossa, Standard, Evergreens: ITALIANS, RUSSIANS (with a Russian Singer) and INTERNATIONALS.
After many years of collaborations with DJs in the studio recording (productions, arrangements), and live (discos, private parties), I felt the necessity to perform as "LIVE DJ" too.
My "sets" are: House, Deep House, Chillout, Lounge and Commercial.
I show a difference way then a standard DJ SET,
because I play live sessions, overlapping at the
house, deep house songs with a wide variety of
sounds: Piano, Synthesizer, Hammond, Sax ...
singular personal performance, surely different by the ordinary DJ sets.
My DJ SET is not closely linked to the LIVE, and then I am also available only as DJ.
It is a kind of performance, which is getting increasingly present in the musical entertainment but with a
I collaborate with many female singers, to have different kind of voices available. This allows me to be always available, even for unexpected events.
A classic duet, with a female voice, allow me to play a wide variety of songs.